I don't think it's a secret that fashion designers set the stage, and it's the public that takes what designers create and make it popular. I mean, how many times have you seen
Anna Dello Russo
rock something straight off the runway and then that t-shirt/jacket/dress run out of stock?
Hence and therefore, I love looking at style blogs to see how people take what you see in the FW and SS shows and turn it into their own. One of my favorite ones lately is Caroline Blomst's
Stockholm Street Style
.....is it just me or do Europeans have a significantly greater hand at slapping together great outfits?
I was clicking around it the other day, and this photo just leaped off the page and punched me in the face: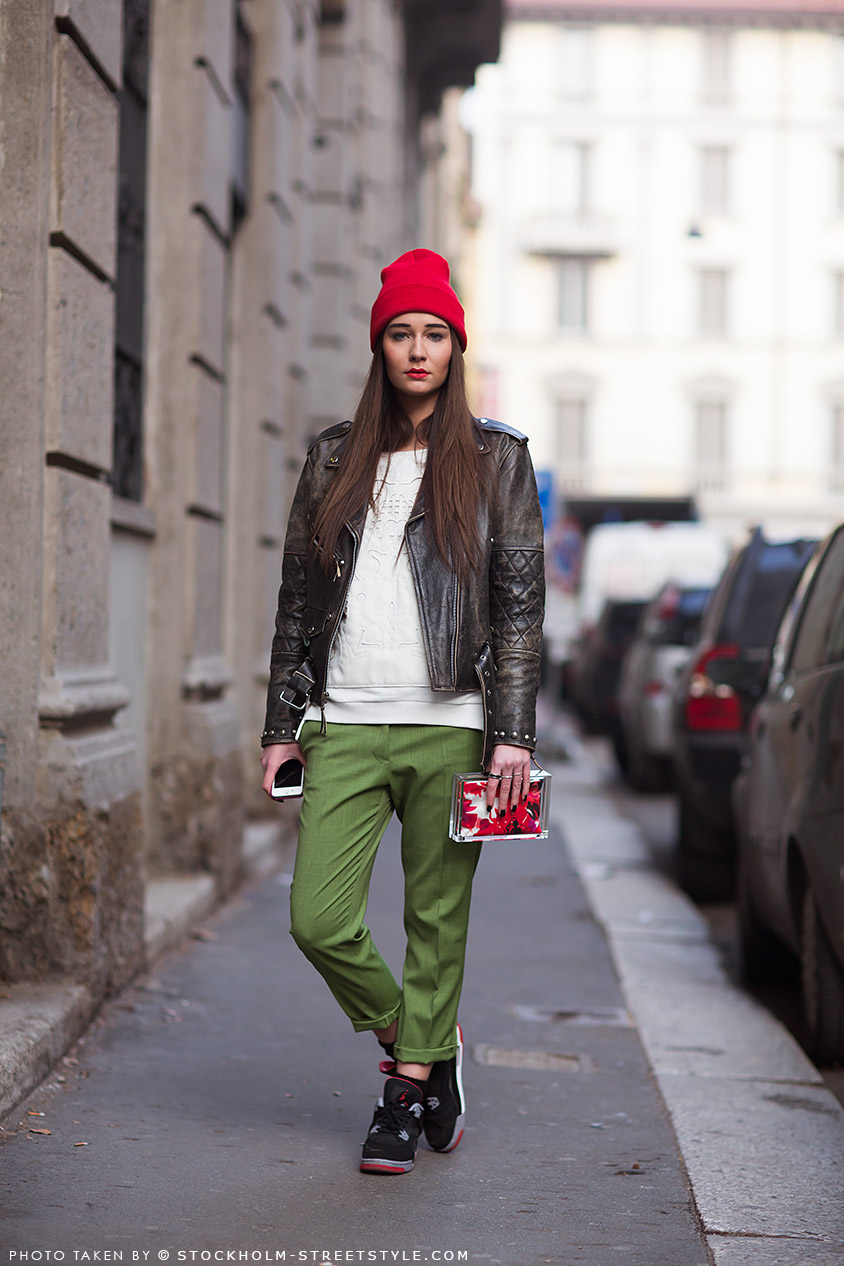 Talk about your perfect symmetry of the casual and high fashion! The sneakers with the tough leather jacket, meshed with the delicate green pants and Lucite clutch. The final touch? THAT STRIKING RED HAT.
This is totally an outfit that I can see myself wearing, especially because this is in my color palate and it has layers of texture to it to make it jump. BUT as it is spring [soon to be summer], I'm thinking that this outfit needs more of a feminine touch to it. Something that one could wear out for drinks but still keeps that casual vibe....
So how do you go from masculine to feminine? Throw in some damn sexy heels, and soften the lines a little! I kept the same color scheme of green/white/black/dark brown/red but switched out some of the elements for what I think would work for a night out. De-structured the beanie to be more slouchy, amped up the Lucite clutch to include more gold, and of course put in some infamous red soles that not only look amazing but also match the colors of the inspiration photo's sneakers.
This I would wear to the following:
Out to dinner at Toro [delicious tapas in Boston, the BEST].
To a concert at the House of Blues Boston.
Drinks at Temple Bar in Cambridge.
To see Coppélia at the Boston Ballet.

Travel to Paris and have dinner at the top of Eiffel Tower.......................yeah, right.
Anywho, what outfit do you prefer, masculine or feminine? Where would you wear such an ensemble? Let me know in the comments!
Red lipstick, all on the paper.